Menu subject to seasonal variations, due to problems of availability, the products could be frozen at the origin.
It may also not be upated with the proposals of the day.
STARTERS
Bruschetta: toasted bread
with fresh tomato, basil and origan
Thin slices of cured beef
with rocket salad and shavings of parmesan
Sautéed mussels in tomato sauce with chili
Grilled Tomino cheese with bacon, radicchio and balsamic vinaigrette
Salad of warm octopus pieces
with celery, fresh tomatoes, olives
Hors d'oeuvre "Vaticano"assortment of cured meats and local cheeses*
"Vitello tonnato" cold roast veal in tunafish sauce
Burrata mozzarella with fresh cherry tomatoes
Mixed seafood hors d'oeuvre
Tagliolini pasta with salmon, cream and tomato sauce
Ravioli
with lavaret - Garda whitefish, rocket salad pesto and tomatoes
Spaghetti Luisa with Chunks of beef fillet,
mild curry, tomato and cream sauce - speciality -
Homemade spaghetti
with fresh tomato and chilli
Small spinach gnocchi dumplings
with butter-sage sauce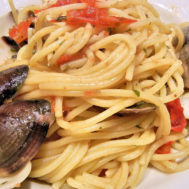 Spaghetti with fresh clams and tomatoes
Fresh tagliolini pasta with
porcini mushrooms
Risotto with
fresh asparagus
Garganelli pasta with tunafish, tomato sauce, olives and capers
MAIN COURSES from THE LAND, from THE SEA and THE LAKE
Pork escalope with porcini mushrooms
Pork cheek braised in Amarone red wine sauce
Sliced entrecôte steak with fresh rocket salad, rosemary and shavings of parmesan
Grilled lamb chops
with truffle sauce
Grilled fillet of beef
270-280 gr.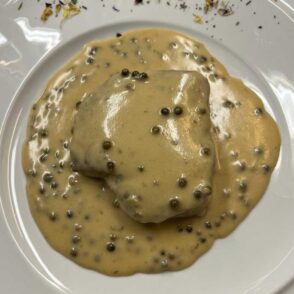 Fillet of beef with green pepper sauce
270-280 gr.
River Char fish with Garda sauce
- lemon, capers, parsley and white wine -
Fresh grilled salmon on a bed
of Soncino salad and vinaigrette
Fresh tomatoes and thinly sliced red onions
Large greek salad:
lettuce, tomatoes, cucumbers, olives, red onions, Feta cheese
Large tunafish salad with mozzarella, rocket salad, radicchio, corn and tomatoes
Rocket salad, Parmesan shavings and fresh tomatoes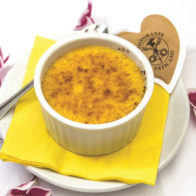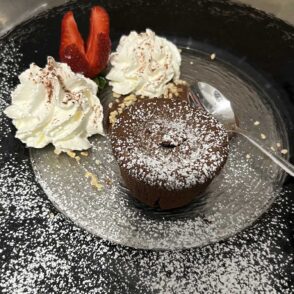 Warm pure chocolate cake
with chocolate sauce
Fresh strawberries with sugar and lemon or
with cream or with ice cream
Mixed ice cream
with whipped cream