Menu subject to seasonal variations, due to problems of availability, the products could be frozen at the origin.
It may also not be upated with the proposals of the day.
STARTERS
Bruschetta: toasted bread
with fresh tomato, basil and origan
Thin slices of cured beef
with rocket salad and shavings of parmesan
Sautéed mussels in tomato sauce with chili
Grilled Tomino cheese with apples, walnuts and local bacon
Salad of warm octopus pieces
with fresh tomatoes, olives and celery
Scallops au gratin - baked -
Burrata mozzarella with fresh cherry tomatoes
Hors d'oeuvre "Vaticano"
assortment of cured meats and local cheeses
Mixed seafood hors d'oeuvre
Fresh tagliolini pasta with smoked salmon and cream sauce
"Heart" shape Ravioli
with Buffalo milk mozzarella, tomatoes, basil, pine nuts
Spaghetti Luisa with Chunks of beef fillet,
mild curry, tomato and cream sauce - speciality -
Homemade spaghetti
with fresh tomato and chilli
Small spinach gnocchi dumplings
with butter-sage sauce
Fresh tagliolini pasta with lobster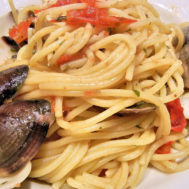 Spaghetti with fresh clams and tomatoes
MAIN COURSES from THE LAND, from THE SEA and THE LAKE
Sliced Chicken breast in Curried creamed sauce
with diced courgettes
Chicken nuggets with sauce
with prunes and crispy speck
Sliced spiced grilled marinated beef
"Carne Salada"with beans
Sliced entrecôte steak with fresh spinach, tomatoes & rocket salad pesto
Grilled fillet of beef
270-280 gr.
Fillet of beef with green pepper sauce
270-280 gr.
Fillet of beef with mushrooms
270-280 gr.
River Char fish with Garda sauce
- lemon, capers, parsley and white wine -
Fresh grilled salmon on a bed of
fresh salad (valerian) and dried tomatoes
Baked sea-bass with flavored bread crust
Tunafish in mediterranean style
Tris of mixed grilled fish
- fresh fish of the day -
Fresh tomatoes and thinly sliced onions
Large greek salad:
lettuce, tomatoes, cucumbers, black olives, onion, Feta cheese
Large Tunafish salad:
mixed salad, tunafish, mozzarella, onion, olives
Large Vaticano salad:
lettuce, Feta cheese, nuts, apple, blueberries, celery
Rocket salad, shavings Parmesan and fresh tomatoes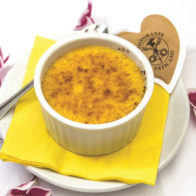 Warm pure chocolate cake
with chocolate sauce
Fresh strawberries with sugar and lemon or
with cream or with ice cream
Chocolate mousse
with rum and amaretto
Mixed ice cream
with whipped cream
Fresh pineapple
natural or with maraschino